Home ›
Events ›
Saturdays with the Saints
Saturdays with the Saints
Rallying the Communion of Saints
Saturdays with the Saints has established itself as a popular Notre Dame football pregame ritual that combines the university's rich traditions of Catholic faith and spirited game days. Notre Dame theology faculty and McGrath Institute staff will deliver dynamic lectures on saints chosen for their uncommon virtue and their willingness to let their faith stand in contradiction to the wisdom of the world.
The lectures begin at 10:30 a.m. in the Andrews Auditorium on the lower level of Geddes Hall adjacent to Hesburgh Library. The talks are free and open to the public. Attendees are encouraged to arrive early as the events tend to fill to capacity. Please note: All visitors to campus, regardless of vaccination status, are expected to wear masks inside campus buildings (except when eating and drinking).
2021 Schedule
Saints of Healing: Physical, Cultural, and

Spiritual
September 11 (vs. Toledo) 10:30am  
"St. Francis and St. Augustine: Saints of Laudato Si"
John C. Cavadini, Director, McGrath Institute for Church Life; Professor of Theology, Notre Dame
September 18 (vs. Purdue) 10:30am  
Sr. Thea Bowman
Kayla August, Doctoral Student, Boston College
October 2 (vs. Cincinnati) 10:30am  
"Saints of the Black Death"
Timothy P. O'Malley, Director of Education, McGrath Institute for Church Life
October 23 (vs. USC) 10:30am  
"African American Saints in Waiting"
Ernest Morrell, Coyle Professor in Literacy Education, Notre Dame
October 30 (vs. North Carolina) 10:30am  
"Julian of Norwich: Prodigal Healing and the Prodigious Mercy of God"
Cyril O'Regan, Huisking Professor of Theology, Notre Dame 
November 6 (vs. Navy) 10:30am  
"Saint Juan Diego and the Subversion of Conquest"
Timothy Matovina, Professor of Theology, Notre Dame
November 20 (vs. Georgia Tech) 10:30am  
"Bernadette, The Spring, and The Immaculate One"
Catherine Cavadini, Associate Teaching Professor of Theology
Upcoming Events
No upcoming events at this time.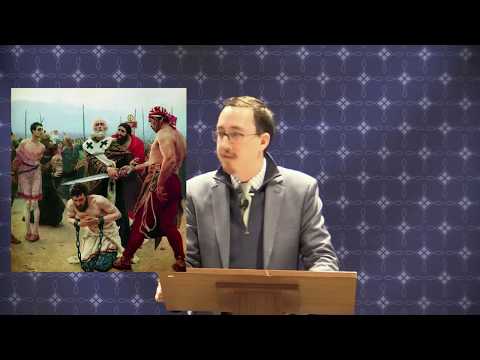 Saturdays with the Saints 2017: St. Nicholas
Gabriel Radle, Visiting Assistant Professor in Theology at the University of Notre Dame, presents on the life and cult of St. Nicholas of Myra. This lecture was the seventh lecture in the 2017 Saturdays with the Saints series.
Related