Home ›
Events ›
Saturdays with the Saints
Saturdays with the Saints
Rallying the Communion of Saints
Saturdays with the Saints has established itself as a popular Notre Dame football pregame ritual that combines the university's rich traditions of Catholic faith and spirited game days. Notre Dame theology faculty and McGrath Institute staff will deliver dynamic lectures on saints chosen for their uncommon virtue and their willingness to let their faith stand in contradiction to the wisdom of the world.
The lectures begin at 10:30 a.m. in the Andrews Auditorium on the lower level of Geddes Hall adjacent to Hesburgh Library. The talks are free and open to the public. Attendees are encouraged to arrive early as the events tend to fill to capacity.
2018 Schedule
Saints of Dialogue: Saints of Silence

September 1 (vs. Michigan)
St. John of the Cross
Saint John of the Cross: Silences and the Spiritual Life
Cyril O'Regan, Huisking Professor of Theology, Notre Dame
September 8 (vs. Ball State)
The Monks of Tibhirine
Martyrs of Dialogue: The Monks of Tibhirine
Sr. Ann Astell, Professor of Theology, Notre Dame
September 15 (vs. Vanderbilt)
Chiara Lubich
Chiara Lubich: A Saint for a New Global Unity
Peter Casarella, Associate Professor of Theology, Notre Dame
September 29 (vs. Stanford)
St. Bruno the Carthusian
St. Bruno: Silence and the Habit of Joy
Anthony Pagliarini, Assistant Teaching Professor of Theology, Notre Dame
October 13 (vs. Pittsburgh)
Matteo Ricci, S.J.
Matteo Ricci: A Saint for Inculturation
Fr. Nathan O'Halloran, S.J.
November 10 (vs. Florida State)
Bl. Charles de Foucauld
A Heart for Muslims: Blessed Charles de Foucauld 
Gabriel S. Reynolds, Professor of Islamic Studies and Theology, Notre Dame
Upcoming Events
No upcoming events at this time.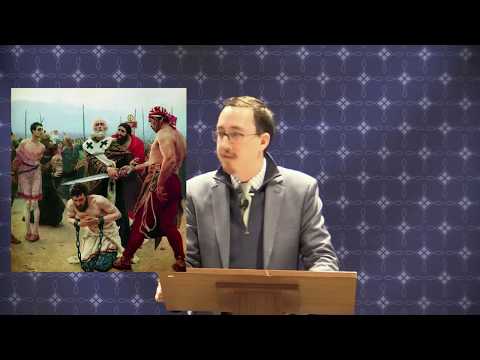 Saturdays with the Saints 2017: St. Nicholas
Gabriel Radle, Visiting Assistant Professor in Theology at the University of Notre Dame, presents on the life and cult of St. Nicholas of Myra. This lecture was the seventh lecture in the 2017 Saturdays with the Saints series.
Related