Home ›
Events ›
Saturdays with the Saints
Saturdays with the Saints
Saints of the Blessed Mother
Saturdays with the Saints has established itself as a popular Notre Dame football pregame ritual that combines the university's rich traditions of Catholic faith and spirited game days. Notre Dame theology faculty and McGrath Institute staff will deliver dynamic lectures on saints chosen for their uncommon virtue and their willingness to let their faith stand in contradiction to the wisdom of the world.
The lectures begin 4 hours before kick-off in the Andrews Auditorium on the lower level of Geddes Hall adjacent to Hesburgh Library. The talks are free and open to the public. Attendees are encouraged to arrive early as the events tend to fill to capacity. 
Check back soon for the 2022 schedule!
Upcoming Events
No upcoming events at this time.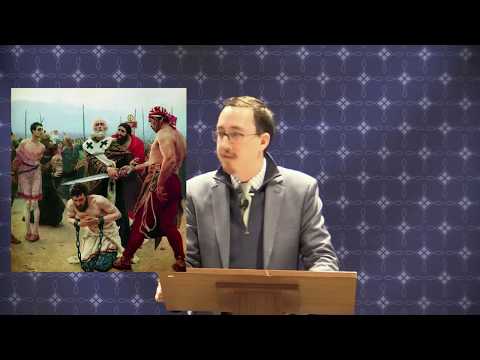 Saturdays with the Saints 2017: St. Nicholas
Gabriel Radle, Visiting Assistant Professor in Theology at the University of Notre Dame, presents on the life and cult of St. Nicholas of Myra. This lecture was the seventh lecture in the 2017 Saturdays with the Saints series.
Related