Home ›
Events ›
May Crowning
May Crowning
Come and honor Mary, the Mother of God, at the university dedicated to her name
Unfortunately, the 2022 May Crowning has been cancelled. We apologize for the inconvenience! If you're interested in honoring Mary in your own home, please consider using this free resource. We look forward to seeing you in 2023!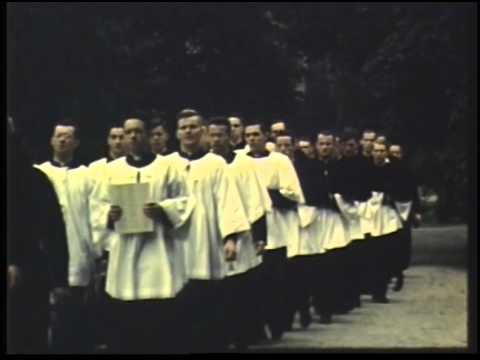 Continuing the tradition
The Marian Procession and May Crowning are popular devotions honoring our Blessed Mother. They have enjoyed a resurgence in recent years as Catholics seek to reconnect with the beauty and tradition of the faith. At left is video footage from a Marian Procession at Notre Dame circa 1950, and below is video footage from the first Marian Procession and May Crowning hosted by the McGrath Institute for Church Life.
"Let all try to approach with greater trust the throne of grace and mercy of our queen and mother, and beg for strength in adversity, light in darkness, consolation in sorrow."
"Procuren, pues, todos acercarse ahora con mayor confianza que antes, todos cuantos recurren al trono de la gracia y de la misericordia de nuestra Reina y Madre, pidan socorro en la adversidad, luz en las tinieblas, consuelo en el dolor."
- Pope Pius XII, Ad Caeli Reginam