Home ›
Events ›
May Crowning | Coronación de la Virgen María
May Crowning | Coronación de la Virgen María
A bilingual procession to honor Mary, the Mother of God, at the university dedicated to her name
Join us on Saturday, May 4 at 10:30am at the Grotto for a bilingual Marian procession through campus and a May Crowning at Geddes Hall. Families are welcome. Reception to follow. In case of rain, the event will be held at Geddes Hall.
Una procesión bilingüe en honor a María, la Madre de Dios, en la universidad dedicada a su nombre
Acompáñanos el sábado, 4 de mayo a las 10:30am en el Grotto para una procesión mariana bilingüe a través del campus de la universidad para la coronación de la Virgen María en Geddes Hall. Éste es un evento familiar. Habrá una recepción al final del evento. En caso de lluvia, el evento se llevará a cabo en el edificio Geddes Hall.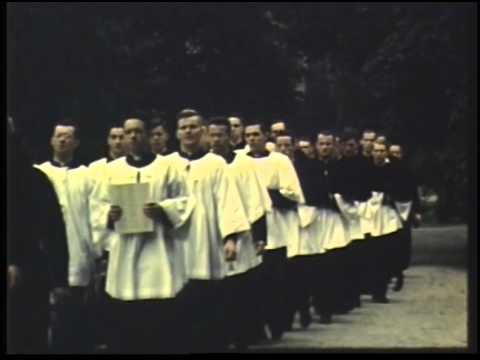 Continuing the tradition
The Marian Procession and May Crowning are popular devotions honoring our Blessed Mother. They have enjoyed a resurgence in recent years as Catholics seek to reconnect with the beauty and tradition of the faith. At left is video footage from a Marian Procession at Notre Dame circa 1950, and below is video footage from the first Marian Procession and May Crowning hosted by the McGrath Institute for Church Life.
La Procesión Mariana y la Coronación de María son devociones populares en honor a nuestra Santísima Madre. Han disfrutado de un resurgimiento en los últimos años a medida que los católicos buscan reconectarse con la belleza y la tradición de la fe. A la izquierda, hay un video de una Procesión Mariana en Notre Dame alrededor de 1950, y abajo hay un video de la primera Procesión Mariana y la Coronación de María organizada por el Instituto McGrath para la Vida de la Iglesia.
"Let all try to approach with greater trust the throne of grace and mercy of our queen and mother, and beg for strength in adversity, light in darkness, consolation in sorrow."
"Procuren, pues, todos acercarse ahora con mayor confianza que antes, todos cuantos recurren al trono de la gracia y de la misericordia de nuestra Reina y Madre, pidan socorro en la adversidad, luz en las tinieblas, consuelo en el dolor."
- Pope Pius XII, Ad Caeli Reginam